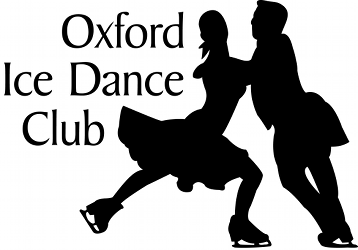 Dance Club Times

Dance Club is from 7.30pm to 8.30pm on Tuesdays.


Oxford Ice Dance Club Membership
Join Oxford Ice Dance Club for practice, social dancing, learning dances and the advanced dances. The session runs from 7.30-8.30pm every Tuesday. There is half an hour of practice and private lessons (for full members) followed by half hour dance interval at 8.00pm, which include dances from novice (see list below) to BIS Level 10 (e.g. Paso Doble and Quickstep).
Visitors are welcome, see below for guest fees
What standard should I be?

To get the most out of Dance Club, skaters should be able to glide on one leg, can do forward inside and outside edges on both feet and perform a controlled stop. You are then ready to start learning the forward dnaces (approximately in order of difficulty):

Novice Foxtrot

Rhythm Blues

Dutch Waltz

Canasta Tango

Golden Skaters Waltz

Canadian Cha Cha

Riverside Rhumba

Festival Quickstep

Most can be found online on video sharing sites as well as patterns showing the steps and timing, though these can require some deciphering.
If you are not sure you meet these criteria and wish to skate as a guest or join as a member, please Contact us and we will be happy to advise. Application forms are available from Dance Club committee members. We do also ask that prospective members be aged 11 or over, though the committee does have discretion on this.

Membership of the both clubs runs from November to October each year, though you can join at any time and the membership is calculated pro rata for the remainder of the year.
Membership for the year starting the 1st November 2022 will hold the same prices as the current year.


1st November 2022 to 31st October 2023 membership fees
Oxford Ice Dance Club
Annual payment
4 instalments
12 monthly payments
Adult
£600.00
£150.00
£50.00
Adult including OXIST
£870.00
£217.50
£72.50
Junior/Student
£480.00
£120.00
£40.00
Junior/Student including OXIST
£690.00
£172.50
£57.50
Adult Guest fee (per visit)
£15.00
OXIST Adult Member Guest fee
£7.50
Junior/Student Guest fee (per visit)
£10.00
O)XIST Junior/Student Member Guest fee
£5.00
Junior Dance Member Guest fee
£5.00
Parent/Associate
£20.00
The membership form is available here. Please hand to a committee member.
Associate membership entitles a skater to represent Oxford Ice Dance Club at open competitions and to take part in club events, but does not include any ice time. Associate members must therefore pay the weekly guest fee if they wish to skate on club ice. Lessons are available on the session for full members only.
Benefits of Full Membership:

eligibility for private lessons on the club session (by individual arrangement with a coach)

10% discount at The Terrace (Oxford Ice Rink's cafe)

10% discount at Ice Therapy (sport massage and soft tissue therapy based at the ice rink)