RIDL
Oxford is part of the South West Recreational Ice Dance League, with Bristol and Solihull.
The purpose of the Recreational Ice Dance Leagues is to encourage ice dance couples of any age and standard to take part in social ice dancing events with an element of competition. As such, it aims to have the widest possible participation.
There are four regional leagues, which hold local matches during the summer. Each region then sends a team drawn from all its participating rinks to the National Final in the autumn (usually November). To be eligible for selection for the Final, skaters must have competed in at least one match in their region.
The Final has three sections of competition:
Junior (Level 3 and under)
Intermediate (Level 7 and under)
Senior (open standard)
The regions each have their own rules regarding standards for competitions. South West operates with only two levels, Junior (Level 6 and under) and Senior (open standard). Details of fixtures for other regions may be found here.

Solihull 2017
RIDL dates and dances for 2020 TBA
RIDL dates and regional results for 2019:
South West RIDL Results
Junior: 1st: Oxford (25 points), 2nd: Solihull (24 points), 3rd: Bristol (23 ppoints)
Senior: 1st: Bristol (32 points), 2nd: Oxford (25 points), 3rd: Solihull (12 points)

Solihull, Saturday 6th April 2019 from 4.15pm to 6.45pm
Junior: 1st Solihull (18 points), 2nd equal: Bristol and Oxford (9 points)
Senior: 1st: Bristol (14 points), 2nd: Oxford (11 points), 3rd: Solihull: (6 points)

Oxford, Sunday 21st July 2019 from 4.30pm to 7.30pm
Junior: 1st: Oxford (16 points), 2nd: Bristol (14 ppoints), 3rd: Solihull (6 points)
Senior: 1st: Bristol (16 points), 2nd: Oxford (14 points), 3rd: Solihull (6 points)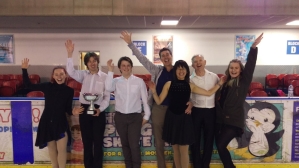 Part of the 2019 RIDL Final team with the Junior Cup