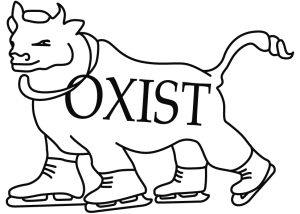 The History of OXIST
In the winter of 1979/80 a group of skating enthusiasts gathered on a patch of frozen flood water on Port Meadow to enjoy the rare opportunity of skating in Oxford. For skating outdoors to be safe, the temperature has to remain below freezing constantly for at least three consecutive days. At best, this might happen twice in a year; in many years it would not happen at all. The gathering was not unusual: keen skaters will exploit any opportunity they can and had been doing so for many years on Port Meadow. This year, however, was different. Among the skaters was Mary Meagher, a forceful and dynamic woman recently arrived from America. Mary had previously spearheaded a successful fund raising campaign in America to raise a roof over an open air rink. She considered the provision of sporting facilities in Oxford abysmal and persuaded her fellow skaters to form an ice skating club with a view to campaigning for a rink in Oxford. The skaters needed little encouragement and the Oxford Ice Skating Club was formed in May 1980. It quickly grew to over 700 members, from all over Oxfordshire and the surrounding counties, and from all walks of life. Not content with an occasional stagger around Port Meadow, the club organised coaches at least once a month to take a couple of hundred members to Southampton, Bristol or Solihull, where private ice time had been negotiated.
Britain was doing very well in the world of ice skating at the time. John Curry and Robin Cousins had won figure skating gold medals at consecutive Winter Olympic Games, and Torvill and Dean were the emerging stars of ice dance. The interest they generated was enormous. Robin put his full support behind the Club and Chris and Jayne gave permission to use their name for fund raising.
The Club approached the County Council, the City Council and the surrounding District Councils, hoping to show that there was enough demand to justify the provision of a rink in Oxford. While the councils were interested in collaborating, none of them were willing to take the financial initiative. Government funding was very limited, and the political climate was uncertain.
It was thought that the project might not be viable because there had been an ice rink in Oxford many years previously, which had failed. However, the Chair of the City Recreational and Amenities Committee was keen to get a sports complex started on ground that had been designated for the purpose for over twenty years and saw an ice rink as a first step in that direction. The City Council offered support in the form of a £50,000 donation and a 60 year lease on land on which to build, starting at a peppercorn rent for the first five years and a rent of £2,000 per annum or 10% of the profit thereafter. Two sites were put forward, in Blackbird Leys and on Botley Road, before the current site, on Oxpens Road, was chosen.
For legal reasons, a limited company had to be set up to administer the complexities of planning, designing, building and raising the estimated £1.5 million required. The Oxford Ice Skating Association Ltd (OXISA) was registered and together with the Club became the Oxford Ice Skating Trust. Hence, OXIST.
There followed a long hard drive to raise money from public subscription, company donations, debentures, country fairs, raffles and shaking tins in the streets. A list was drawn up of wealthy Oxfordshire people, who were then targeted with personal letters and telephone calls appealing for financial support. A local millionaire vehemently opposed the proposal, because he wanted the City to provide his football club with land for a new stadium. Opposition was whipped up in the press suggesting that ice skating was an elitist sport and would be a waste of tax payers' money (although in truth, very little, if any, tax payers' money was spent).
At the same time, the Club and Association committees were working on a feasibility study detailing the number of skaters that could be expected to come from the catchment area, and the income they would generate. A friendly architect was recruited on a pay-as-you-go basis to design the rink (normally, an architect would receive a percentage of the final cost of the building). The design was produced, and planning permission applied for at a cost of over £2,000. The plans were initially refused. The planners wanted the front door at the back and windows in the walls. The drawings were modified and a second application made. This time, they were passed.
All that was required now was the finance, but this was proving difficult, and only £166,000 had been generated. Many businessmen said that they would donate money only if the Trust had charitable status, so charitable status was applied for. There followed another battle of applications and refusals. According to the Charity Commission, charitable status could not be granted to single sport organisations, although football seemed to be an exception. Many proposals were put to the Commission, including adding rooms for snooker, aerobics, table tennis and a multi-gym for fitness sessions. But this was seen as no more than window dressing and as the months rolled by, hopes of charitable status began to fade. Time was slipping by, building costs were rising, and now Swindon and Reading had declared their intentions to build rinks.
This new surge of interest coincided with the opening of the Peterborough rink in 1982. Peterborough had started out as a similar venture to the Oxford project, begun in Cambridge. Like OXIST, they had been unable to raise enough finance without local government backing, and had allowed Anglia Leisure Company to take the project over. The rink was built in a standard factory unit on a shoestring budget, using a portable ice pad laid on sand. If it failed, conversion to other uses would be simple. However, in spite of sand working up through the ice, it was a great success. There were over 12,000 skaters per week in the first month, double the estimated amount.
In March 1984, OXIST was finally granted charitable status. Since the project was based on similar statistics to the Cambridge venture, it was now obvious that it would be commercially viable. The maximum which could be borrowed had originally been estimated at £500,000, but in the light of Peterborough's success, this could now be increased to at least £1 million - close enough to the financial target to be able to consider building. It was decided to approach a merchant bank for a loan, and a member of the OXISA committee who was also a senior banking official undertook to prepare a proposal requesting a loan of £2 million. The bank considered the proposal to be a very viable financial proposition, well thought through and well presented. They offered a loan of £1.5 million, provided that guarantors would be found.
This was the final hurdle. If three of the district councils could be persuaded to stand as guarantors for £500,000 each, the rink was no longer a dream, but a certainty. The City Council was approached first, and promised an answer within three days. Two days later, they gave an answer that shocked many people. The City Council would build the rink themselves, and asked OXIST to hand over the money they had collected to help finance it. OXIST had no choice but to do this, since much of the money that came from public donations could only be used to build an ice rink, and without the land at Oxpens and the £50,000 council donation, it could not be built elsewhere. A large proportion of the money was in the form of promises of donations and debentures, which were conditional. The City Council was asked if they would honour the conditions but they declined, so many of the donations and debentures had to be repaid. The remainder of the money (enough to buy all the hire skates), and the architects' plans were duly passed over to the City Council in May 1984.
This final development was a great disappointment to the OXIST committee, who had worked so hard for nearly four years, and had so nearly achieved the original aim of building a rink on its own terms. A further disappointment came when the Council decided to scrap the already approved plans, which had cost OXIST around £40,000. They commissioned an architect from London, who apparently designed the present building after the Cutty Sark, at a projected cost of £3 million. The Council rejected this on the grounds that the original brief had been only £1.7million. The design was then altered to reduce the cost to £2.5million, but the building was reduced in length, which in turn reduced the size of the bar, cafeteria, skate hire and changing area. The Council accepted this and, after putting it out to tender, appointed a main contractor to start building. Although it was not quite what was originally envisaged, OXIST's main aim had been achieved: Oxford now had an ice rink, and it finally opened to the public in November 1984.
During this time, OXIST was informed that the Inland Revenue intended to challenge its charitable status in the High Court. Defending the case would have incurred enormous costs, so OXIST decided not to contest the challenge. As the rink was now built, there was no need for the limited company that had been set up to build it. £2,000 left in the OXISA account was donated to the Sports Aid Foundation, earmarked for ice skating use, and OXISA was wound up.
OXIST continued as a pure skating club, and negotiated - or rather, was allotted - the Sunday lunchtime session of protected ice time that we still enjoy. Club sessions were crowded, and skating membership had to be limited to 500. The following January, a further hour of ice on Sunday mornings was negotiated, and the Ice Dance section was formed. In April, the School of Skating asked for a Junior Figure and Free section to be set up under the umbrella of the club. This was done and an hour on Wednesday afternoon was provided. Several attempts were made later to set up a Speed skating section, but there were never enough serious members to make it viable. Unfortunately, the Figure time was not protected, and was eventually taken away to give more practice time to hockey. The Figure Club session was moved to a session on Fridays, which was paid for partly by the club, and partly by the professionals who coached on it.
OXIST is still running, thanks to the hard work of its volunteers. Over the 23 years that the rink has been open, it has proved to be a good representative body for the skaters and an effective mediator in many minor disputes; its strength being its unity and its impartiality. The Dance section is still strong, and remains part of OXIST. The Figure and Free Club decided to separate from OXIST by mutual agreement, but still remains a viable club to receive and encourage young talent.
In writing this history, I have named only one person who was instrumental in starting the ball rolling. However, there have been many others who have worked and are still working hard to bring about and keep a strong skating community in Oxford. All of them deserve our sincere gratitude.
Bill Tumbridge
Chairman, OXIST